IAN FLORES
Age: 22 DOB: August 16, 2000 Height: 5'7″ Weight: 140 lbs Citizenship: US
Languages: English, Spanish, Portuguese Position: Midfielder Foot: Left & Right
Teams: Spain: 2020 CD Loeches, Madrid, United States: 2023 Deportivo Lake Mary, UPSL Premiere
Ian Flores is a 22 year All American and United Soccer Coaches Florida High School Player of the Year in 2018. The midfielder from Tampa, Florida, played 2 seasons for Oglethorpe University's first team in Atlanta, Georgia (2018-2020) and was a member of Puerto Rico's U20 National Team that participated in World Cup Qualifiers. Ian has also been a 3-time invitee by the US Soccer Federation to their pool of players, a State Champion and Southern Regional Champion with the USL's Tampa Bay Rowdies TBU U19 team.
In 2020 Ian was invited to play in Spain with CD Loeches and received official invitations to try out with La Liga's Maratalaz, Alcorcon and Leganes until Covid forced him to return to the US. He is actually playing his second season with the 2023 UPSL Premiere League's Deportivo Lake Mary while currently  finishing his college degree.
---
Edad: 22 Fecha de Nacimiento: Agosto 16, 2000 Estatura: 1,75m Peso: 63.5 kg
Ciudadanía: Estadounidense Idiomas: Español, Ingles, Portugües Posición: Mediocampista Pie: Derecho e Izquierdo Equipos: Spain: 2020 CD Loeches, Madrid, United States: 2023 Deportivo Lake Mary, UPSL Premiere
Ian Flores es un altamente cotizado All American y seleccionado como el Jugador del Año de Escuelas Superiores en el Estado de Florida en el 2018. El mediocampista Estadounidense de 22 años participó dos temporadas con el 1er equipo de la Universidad Oglethorpe en Atlanta, Georgia (2018-2020) y fue miembro de la Selección Nacional de Puerto Rico U20 para un clasificatorio del Mundial. Ha sido invitado en 3 ocasiones a ser parte del pool de jugadores de la Federación Nacional Futbol de los Estados Unidos y ha sido miembro del equipo U19 campeón del estado de la Florida y del sur de los Estados Unidos, representando al club profesional Tampa Bay Rowdies U19. En el 2020, debido al Covid, regresó de jugar con CD Loeches en España y actualmente milita en la UPSL Premiere League en en su segunda temporada con Deportivo Lake Mary mientras termina su bachillerato universitario.
HIGHLIGHTS
TEAM CAPTAIN, MIDFIELD, WINGER, FORWARD.
QUICK, STRONG, VERSATILE, SKILLED, PHYSICAL, AND ACCURATE.

IAN FLORES SIGNS WITH USPL PREMIERE LEAGUE'S DEPORTIVO LAKE MARY/IAN FLORES FIRMA CON EL EQUIPO DE LA UPSL PREMIERE, DEPORTIVO LAKE MARY
Ian is into his second season with Deportivo Lake Mary in 2022/23 as a Mezzala, a wide central midfielder role usually reserved for a creative, mobile player who is given license to get forward and support attacks, but with plenty of defensive responsibility. Coached by team owner Alfredo Forero, Ian has become a leader on and outside the pitch in a very talented team with aspirations to qualify in 2023 to the Lamar Hunt US Open Cup.
Después de una temporada exitosa con el Diaspora United de Tito Baptiste, Ian está en su segunda temporada con el Deportivo Lake Mary para la temporada de 2022/2023 como Mezzala, un rol de mediocampista central amplio generalmente reservado para un jugador creativo y móvil al que se le da licencia para adelantarse y apoyar los ataques, pero con mucha responsabilidad defensiva. Dirigido por el dueño del equipo Alfredo Forero, Ian se ha convertido en un líder dentro y fuera del campo en un equipo muy talentoso con aspiraciones de clasificarse en 2023 para la Copa Abierta de EEUU Lamar Hunt.

IAN FLORES SIGNS WITH USPL'S DIASPORA UNITED/IAN FLORES FIRMA CON DIASPORA UNITED, UPSL
Weeks after coming back due to Covid-19 from playing in Spain, Ian Flores joined the UPSL's Diaspora United in Orlando Florida. His impact on the team, leadership and performance was felt throughout the season, being recognized multiple times nationally by the UPSL, including a top 10 and top 5 goals selections. Throughout the season, Ian started all 11 games for Diaspora with 957 minutes played as a midfielder, averaging a team high 87 minutes per game. As Captain of Diaspora he led the team to the Southeast Conference semifinals.
A semanas de haber regresado de España en el 2020 debido a Covid, Ian se unió al equipo de la USPL, Diaspora United en Orlando, Florida. Su impacto en el equipo fué inmediato debido a su liderazgo, talento y ejecutorias en el campo. La USPL lo reconoció nacionalmente por su juego en multiples ocaciones, incluyendo selecciones de Top 10 y Top 5 goles en la nación. En la temporada regular, Ian comenzó en todos los 11 juegos de Diaspora con un record de 957 minutos, promediando 87 minutos jugados como mediocampo. Como capitán de Diaspora, llevó el equipo hasta la semifinal de la Conferencia Sureste de la UPSL.

IAN FLORES MAKES CD LOECHES TEAM IN SPAIN/IAN FLORES HACE EQUIPO DE CD LOECHES EN ESPAÑA
After coming back from a season ending injury in 2019, Ian left college in 2020 to play in Spain with Preferente's CD Loeches. Thanks to his skills he was invited to try out with La Liga's Alcorcón S.A.D.(2da), Moratalaz ED (3ra) and CD Leganés (2da). After 6 months and with his work visa in process, Ian returned to the US two days before flights from Europe were cancelled due to Covid-19, ending with the UPSL's Diaspora in Orlando.
Luego de recuperarse en el 2019 de una lesión que terminó su temporada en su Universidad, Ian partió en el 2020 a España, jugando para el CD Loeches de la liga preferente. Sus habilidades le brindaron invitaciones para los equipos Moratalaz ED (3ra), Alcorcón S.A.D.(2da) y CD Leganés (2da), todos equipos de La Liga en España. Debido al Covid 19 y en medio de su trámite para su visa de trabajo, Ian tuvo que regresar a los Estados Unidos, 2 días antes de que los vuelos se cancelaran debido al Covid 19. Ian terminó jugando la temporada completa con el equipo de la UPSL, Diaspora United en Orlando, Florida.

FLORIDA HIGH SCHOOL PLAYER OF THE YEAR/JUGADOR DEL AÑO DEL ESTADO DE LA FLORIDA
In the year 2018, there were over 450,000 boys playing high school soccer in the US. 50 players are selected by coaches in their state as player of the year based on statistics, leadership and schedule difficulty. Ian was honored to be awarded the 2018 Player of the Year for the state of Florida. For more info click here.
En el año 2018, hubieron sobre 450,000 jugadores de soccer jugando en escuela superior en los Estados Unidos. 50 jugadores fueron seleccionados por los entrenadores de los Estados Unidos como jugadores del año para cada uno de los 50 estados. Esta decisión se toma considerando las estadísticas, dificultad de itinerario y liderazgo. En el 2018, Ian tuvo el honor de haber sido seleccionado como jugador del año en el estado de la Florida. Para más información, presionar aquí.

2018 ALL AMERICAN SELECTION/SELECCIÓN ALL AMERICAN 2018
United Soccer Coaches Association, the largest soccer coaches association in the world, named Ian Flores as one of the 21 players named in their annual convention in Chicago as an All American. Ian became one of the two players from Florida to receive the coveted title in 2018 and the first player from Tampa in over 8 years.  For more info click here.
La Asociación United Soccer Coaches, la asociación de entrenadores de futbol mas grande del mundo, nombró a Ian Flores como uno de los 21 mejores jugadores en los Estados Unidos, seleccionados con el exclusivo honor de ser un All American en su convención anual celebrada en Chicago, Illinois.  Para más información presione aquí.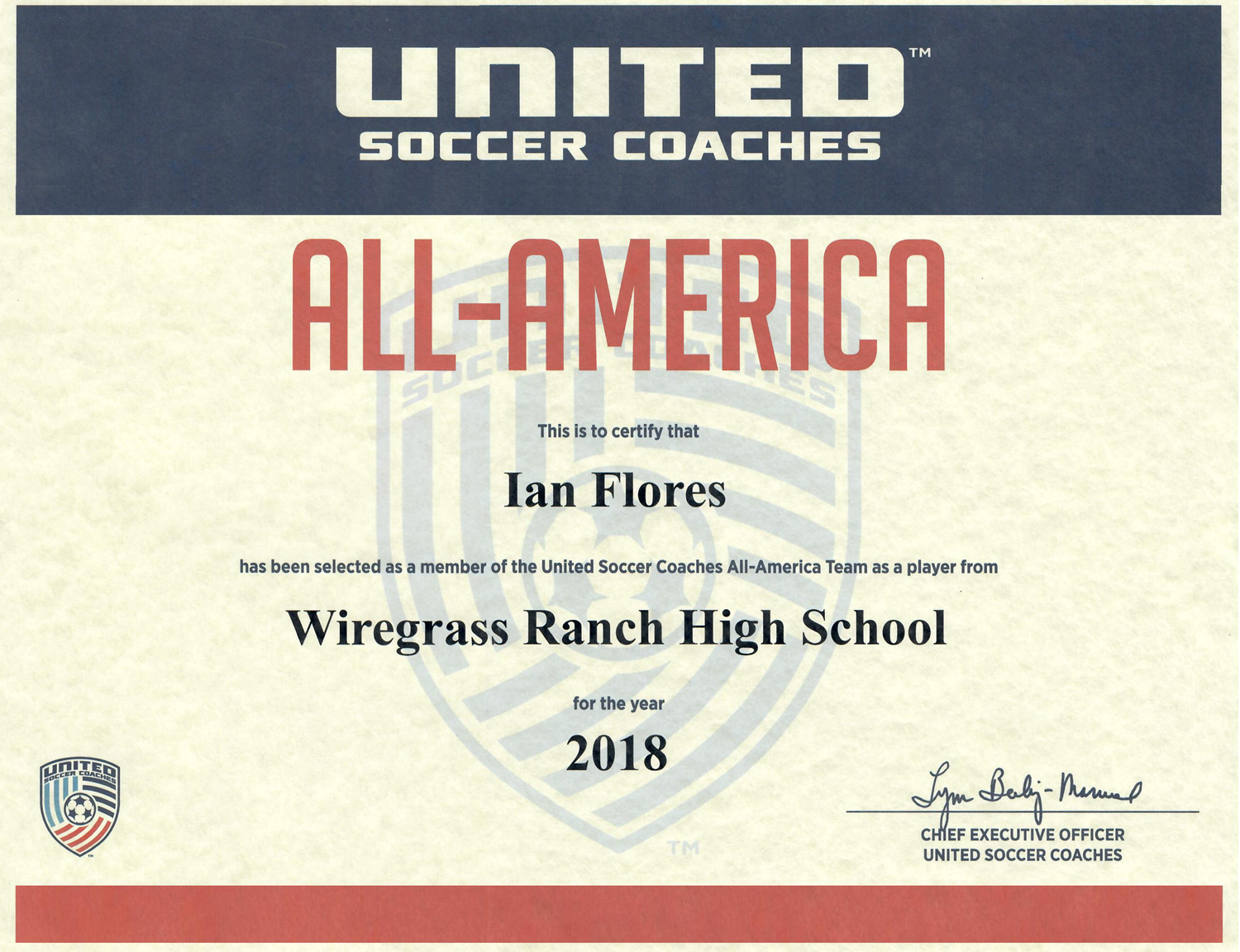 PR NATIONAL TEAM CONCACAF/SELECCIÓN NACIONAL DE PUERTO RICO CONCACAF
In November of 2019, Ian was called up by the Puerto Rico Soccer Federation to be part of the U20 National Team for the CONCACAF U20 World Cup Qualifiers. In December of 2019, Ian spent 10 days in Puerto Rico training under the Puerto Rican Soccer Federation, FEDEFUTBOLPR for upcoming tournaments.  For more info click here.
En Noviembre del 2019, Ian fue llamado a integrar el el Equipo Nacional U20 de Puerto Rico para competir en la clasificatoria CONCACAF del Mundial U20. En Diciembre de 2019, Ian recién participo 10 días practicando en Puerto Rico bajo la supervisión de la Federación Puertorriqueña de Futbol, FEDEFUTBOLPR en preparación para futuros torneos. Para más información presione aquí.

PROFESSIONAL TEAM TRYOUTS AND EXPERIENCES/INVITACIONES A EQUIPOS PROFESIONALES
At 22 years old, Ian is already at his second passport book having travelled to play soccer in Glasgow, Munich, Madrid, Cologne and Duisburg among other cities. He has received multiple tryout invitations from professional teams such as a 7-day tryout invitation in Munich by Bundesliga's TSV 1860 U19 team and a 10-day tryout invitation at 18 with MLS' DC United. Even though he chose to attend college in the USA, in 2020 Ian travelled to Spain, emailed his highlight reel to 29 teams and made the CD Loeches team. His style of play earned him invitations with 4 of La Liga's teams during their midseason.  For more info click here.
A sus 22 años, Ian ha viajado extensamente para entrenar con los mejores equipos de Alemania, España y Escocia entre otros países. Ian ya va por su segunda libreta de pasaporte habiendo entrenado y jugado en ciudades tales como Munich, Duisburg, Madrid, Cologne y Glasgow entre otras ciudades. Ian fue invitado a una prueba de 10 días con el equipo U19 TSV 1860 en Munich y de 14 días con el equipo de MLS DC United, optando por aceptar una beca universitaria para jugar futbol en los Estados Unidos. En el 2020 y luego de enviar su highlight reel a 29 equipos en España, hizo el equipo de CD Loeches y su estilo de juego hizo que recibiera invitaciones de 4 equipos, terminando viviendo en Madrid por 6 meses.  Para más información presione aquí.

UNITED STATES SOCCER FEDERATION/FEDERACIÓN DE FUTBOL DE ESTADOS UNIDOS
In three occasions, Ian has been invited by the US Soccer Federation to be part of the pool of players for the U15, U16 and U17 national teams, training along the most talented players in the US at the National Training Center in the city of Claremont.
En tres ocaciones, Ian ha sido convocado al Centro Nacional de Entrenamiento de la Federación de Futbol de los Estados Unidos para ser parte del pool de Jugadores para las selecciones nacionales U15, U16 y U17, entrenado junto a los más talentosos jugadores en los Estados Unidos en el Centro de Entrenamiento Nacional en la ciudad de Claremont.

FLORIDA STATE CHAMPION WITH TBU ROWDIES/CAMPEÓN ESTATAL TBU ROWDIES
In 2018 and playing for the USL's Rowdies, TBU U19 team, Ian was the starting midfielder and led the tournament in assists helping his teammates win the State Championship in 2018.  For more info click here.
En el 2018 y jugando con el equipo de la división U19 del equipo profesional de los Estados Unidos Tampa Bay Rowdies, Ian fungió como el centrocampista titular y lider de asistencias en el torneo, ayudando a ganar el campeonato del estado de la Florida y proseguir al torneo regional para el campeonato del sureste de los Estados Unidos.  Para más información presione aquí.

US SOUTHERN REGIONAL CHAMPION/CAMPEÓN DE LA REGIÓN SUR DE LOS ESTADOS UNIDOS
Playing for the USL's Rowdies TBU U19 team, Ian was the starting midfielder for the team that won the Southern Reginal Championship in 2018. The TBU team ended ranked 3rd in the US for club teams while playing in the Elite Club National League (ECNL)  For more info click here.
Jugando centrocampista y jugador reconocido como clave en el torneo, Ian Flores ayudo a su equipo a ganar el campeonato de clubes del sur de los Estados Unidos, terminando clasificado como el equipo número tres en los Estados Unidos jugando en la liga Elite Nacional de Clubes.  Para más información presione aquí.

MOST RECRUITED ATHLETE IN SCHOOL HISTORY/ATLETA MÁS RECLUTADO EN LA HISTORIA DEL COLEGIO
Ian was honored by Wiregrass Ranch High School in 2018 as the most recruited athlete in school history. Over 60 coaches inquired about his services and ended being admitted by over 15 colleges.  For more info click here.
Ian fue honrado en el 2018 como el atleta más reclutado en la historia de el colegio Wiregrass Ranch en Tampa, Florida. Este colegio gradúa sobre 800 estudiantes al año. Ian recibió sobre 20 ofertas de becas atléticas y fue aceptado en sobre 15 universidades.  Para más información presione aquí.

IAN TO PLAY AT OGLETHORPE UNIVERSITY IN ATLANTA/IAN ACEPTA JUGAR CON OGLETHORPE
After receiving multiple scholarship offers, Ian decided to play soccer at Oglethorpe University in Atlanta due to the quality of the players and the advantage of receiving a Goizueta Scholarship from the former CEO of Coca Cola, among other grants. After his 3rd semester, he has decided to accept a 6 month grant to live and tryout for professional teams in Spain, following his aspiration to become a professional soccer player.  For more info click here.
Luego de recibir multiples ofertas para jugar en distintas universidades, Ian escogió la Universidad de Oglethorpe en Atlanta, Georgia debido a la calidad de los jugadores y al recibir una beca del ex CEO de Coca Cola, Roberto C. Goizueta entre otras becas. Luego de 3 semestres, Ian ha decidido aceptar un grant para vivir y entrenar en España por espacio de 6 meses para luego analizar sus posibilidades de jugar futbol profesionalmente..  Para más información presione aquí.

IAN RECEIVES MULTIPLE SOCCER AWARDS/IAN RECIBE MULTIPLES HOMENAJES
After playing 4 years at Wiregrass Ranch, Ian received some of the most respected awards for high school players. He was one of 4 players in school's history to be named twice 1st team All State,  All Conference 1st team, All Tampa Bay, All Conference 1st Team, Team Snap National High School All Star among many other honors. Ian has been the team captain 9 of his last 12 seasons.  For more info click here.
Luego de 4 años en Wiregrass Ranch, Ian hizo historia al ser uno de 4 jugadores en la historia de Wiregrass en recibir los siguientes reconocimientos: 1er Equipo All State,  1er Equipo Todo Conferencia, Todo Tampa Bay, Team Snap Escuelas Nacionales Todo Estrella, catalogado como el centrocampista número 17 en los Estados Unidos y capitán de 9 de los últimos 12 equipos en que ha participado. Para más información presione aquí.
Ian was featured in the cover and a 3 page spread in Tampa's main newspaper, the Tampa Bay Times Spanish section and promoted by Univision. In the article, Ian was presented as an example for Hispanics in the USA.
---
Ian fue entrevistado por el periódico de mayor circulación en Tampa, el Tampa Bay Times, el cual le dedicó la portada y tres páginas del periódico. Su entrevista fue promocionada por Univisión como un ejemplo para los jovenes Hispanos en los Estados Unidos.
As an offensive midfielder specializing in creating opportunities for his teammates, Ian still was able to take advantage and score when given the space. A clutch player, he scored a total of 8 goals in 2 State Cup runs, ending in 1 State Championship.
---
Como centrocampista ofensivo, la prioridad de Ian es siempre crear oportunidades para sus compañeros de equipo. Aún así, Ian aprovechó cada oportunidad que tuvo para anotar, siendo jugador clave con 8 goles en partidos de la Copa del Estado.
Assists leader by excellence, Ian is a team player always looking to make the right pass to disrupt the opponents defense. In 2018, Ian was ranked as the 17th midfielder in the US by Maxpreps.
---
Lider de asistencias por excelencia, Ian es un jugador inteligente, siempre buscando realizar pases para tormentar las defensas de los equipos contrarion. En el 2018, Ian fue clasificado por Maxpreps como el mediocampista número 17 en los Estados Unidos.
With an excellent physical condition, Ian was frequently assigned to disrupt in the midfield the opposing team's most offensive player and that he did utilizing his body and skills seasoned through the years.
---
Frecuentemente Ian es asignado a cubrir en el mediocampo al jugador más talentoso del equipo contrario utilizando su cuerpo y su mente para dominar y crear caos.
RECOMMENDATIONS/RECOMENDACIONES
Chris Madden, Vice President USL, League Operations
---
Chris Madden, Vice Presidente USL, Operaciones
Eddie Loewen, CEO, Global Soccer Development
---
Eddie Loewen, Principal Ejecutivo, Global Soccer Development
Sean Coniglio, Head Coach on Ian's leadership
---
Sean Coniglio, entrenador principal hablando sobre el liderazgo de Ian
Thomas Rongen, US Soccer Federation Head Scout
---
Thomas Rongen, Escucha de la Federación de Futbol Estados Unidos
David Wilson, Ian's 4 year High School Coach
---
David Wilson, entrenador de colegio de Ian por 4 años
Jeff Thwaites, Ian's skills and physical trainer
---
Jeff Twaites, entrenador físico de Ian
HIS MOTIVATION: AUTISM/SU MOTIVACIÓN: AUTISMO
Ian's motivation to work as hard as heI can is due to Autism. His younger brother Julian is autistic and non-verbal. He hase experienced how hard it is for autistic kids, how they are looked at, how they are treated. Ian is aware of the struggles families go through to try to live a normal life. For Ian, everyday tasks that are normal for others such as training, studying for exams, even watching TV, is a challange. Currently, Ian a student advocate of a non-profit organization called 21 and Change that helps protect the rights of kids with down syndrome, cerebral palsy and autism among other dissabilities. His goal is to succeed professionally so he can keep supporting families that are in need. For more info go to www.21andchange.org.
---
La motivación de Ian para trabajar duro es el Autismo. Su hermano menor Julian pedece de autismo y es no verbal. Ian ha vivido personalmente lo dificil que puede ser para niños con autismo. Como los tratan, como los miran. Ian sabe claramente lo dificil que es para las familias lidiar con esta condición. Tareas que son normales para muchos tales como entrenar, hacer las tareas, concentrarme y hasta dormir, para Ian es muy dificil con la situación de Julian. Por eso Ian también es el representante estudiantil de la organización sin fines de lucro, 21 and Change, la cual proteje los derechos de niños con perlesía cerebral, sindrome down y autismo entre otras condiciones. Su meta es triunfar profesionalmente y poder seguir apoyando a las familias que más lo necesiten. Para información de su trabajo con niños con impedimentos, ir a www.21andchange.org.
10 YEARS OF EXCELLENT COACHING/10 AÑOS DE ENTRENADORES EXCELENTES
Ian has not achieved his success on and off the pitch without the help of professionals that dedicated their time to help him. These coaches which include 7 former professional players, were in charge of teaching the game the right way and building Ian's character and toughness.
---
El éxito de Ian dentro y fuera de la cancha se debe exclusivamente al esfuerzo de estos entrenadores, 7 de ellos pasados jugadores profesionales en Europa. Por espacio de 11 años, Ian ha sido entrenado para entender y jugar el juego correctamente, ayudandolo a ser fuerte mentalmente y en su caracter.
PHOTO GALLERY/GALERÍA DE FOTOS